The Client: McGarrell Reilly Group
45,000 sq. ft NIA prime office leasing and investment sale instruction.
Overview:
As a long-term client, HWBC were involved in the original leasing instruction of the former Hogan Place development at a difficult time in the property market, securing short term, income generating lettings on behalf of the Landlord until such time as the market stabilised to support re-development of the site. In 2015, HWBC were appointed joint leasing agents on the new 45,000 sq ft, Grade A office development, with the role of advising on the optimum leasing and marketing strategy for the building in order to secure the best terms and ERV's for future sale of the investment.
As part of the letting and investment agency team, HWBC successfully pre-let The Sharp in its entirety to Perrigo Pharma plc on long lease terms prior to completion of the works. The property was sold by Patrick Campion of our Investment department for €56.3M in September 2018.
Strategy and Implementation:
As part of both the leasing and investment sale advisory team for the Client, HWBC provided a full-service and collaborative approach in relation to market data and rental demand, the appropriate asset-model and add-value initiatives, to support our exit pricing recommendations for a prime CBD office asset of this nature. HWBC were also involved in other critical aspects of the development process, working closely with the architect and design teams to provide recommendations in relation to building layouts and floor configuration, specifications and finishes, tenant amenities and building accreditations, to meet end user requirements for 'best in class' offices and ultimately attract top quality tenants.
HWBC also advised on the creative and marketing process, providing inputs to launch a full suite of high-quality marketing collateral be-fitting of the asset size and location, and assisted in organising the formal launch event marking the successful introduction of the property to the market.  The primary objective was to secure a pre-let on a single or multiple occupancy basis and HWBC were involved in successfully negotiating the Agreement for Lease and Lease for the entire, ahead of Practical Completion and of other competing schemes in Dublin 2.
CLIENT QUOTE:
"McGarrell Reilly have a long-standing relationship working with HWBC on a number of our key assets over the years and have always found them to be professional, knowledgeable and dynamic in their approach. They understand the momentum and responsiveness required in representing us in our dealings in the market and we were delighted with their recent involvement on the successful pre-let and investment sale of The Sharp building in Dublin 2."
Dr Deirdre Reilly, Investment Director of McGarrell Reilly Group.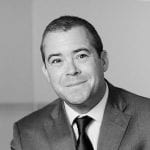 Patrick Campion
Divisional Director
Email PatrickEmail: pcampion@hwbc.ie
08796838080879683808